Soup Fly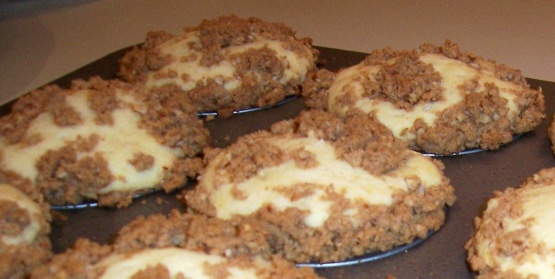 "These tasty little coffee cakes are sure to become a household favorite" From Great American Home Baking
I made these late Christmas Eve for our Christmas breakfast and they whipped up fairly fast. They only needed to bake 20 minutes. The texture is moist and cakey. The only problem I had was that they did not come out of the muffin pan very well. They were so soft that they pulled right off of the bottoms. The bottoms came out with no problem after that, though, so I just sat the tops back on them so everything looked like it should. By morning they had stuck themselves back together! Next time I make these I think I will try layering 1/2 of the topping in the middle of each muffin.
Preheat oven to 350.
Grease 12 standard size muffin pan cups or line with paper liners.
To prepare topping, mix together flour, brown sugar, nuts and cinnamon.
Using a pastry blender or 2 knives, cut butter into flour mixture until coarse crumbs form.
Set aside.
To prepare cakes, mix together flour, baking powder, salt, nutmeg, and allspice.
Mix together sugar, melted butter, vanilla, and eggs until blended.
Alternately stir flour mixture and milk into butter-egg mixture.
Spoon batter into prepared pan, filling cups two-thirds full.
Sprinkle topping over batter; press in slightly.
Bake until a toothpick inserted in center comes out clean, 20 to 25 minutes.
Transfer pan to a wire rack to cool slightly.