Mini Chipotle Burgers With Fire Roasted Garlic Catsup
KateL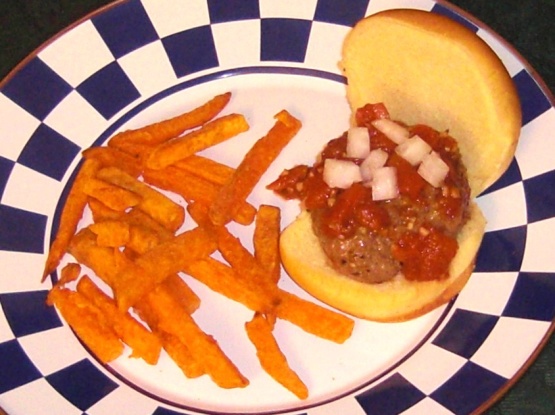 These are sooooo good! A burger kicked up a notch - just how I like my food. These have a wonderful smokey flavor. THE KETCHUP MAKES THE BURGER - it is so tangy and delicious! I tripled the recipe and took it to a potluck at work...they were the first thing to disappear. This recipe came from a Rachel Ray show, and I tweeked it a bit.

Awesome, my husband loved these and I enjoyed making them. Followed the recipe except for using 2lbs of lean grassfed beef. I made my own grill seasoning, following recipe http://www.food.com/recipe/grill-seasoning-184558.
Chop half the onion in a food processor until fine. Chop and reserve the other half of the onion. Add worcestershire, chipotles and adobo sauce and grill seasong to burger. Mix well. Make 12 small burgers (it's about 1/4 cup full of meat) Grill 2 to 3 minutes on each side.
In a small sauce pan, cook the garlic in the olive oil for about 2 to 3 minutes. Add sugar and vinegar and cook a couple more minutes. Stir in tomatoes, season with salt and pepper. Simmer for about 10 minutes.
Place burgers on buns and top with raw chopped onions (optional), cheese (optional), bacon (optional) and warm fire roasted catsup and serve.