Millionaires Shortbread or Creamy Caramel and Oat Squares
ImPat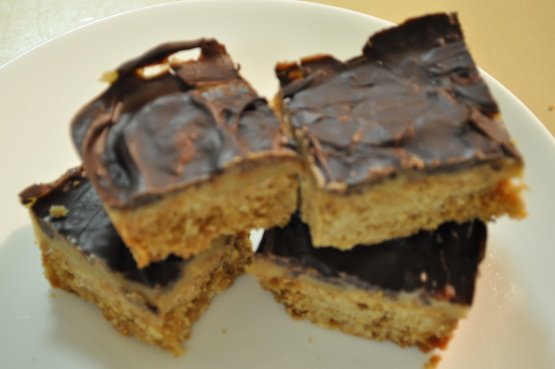 This is a well used recipe in my house-everybody loves it, and it's so simple to do! I sent some of these to my husband's office as part of a Christmas cookie platter, they fought over these-so I guess they liked them! N.B-If you need help with conversions please see HokiesLady's review!

I made a batch of these late last night (along with another treat), to take to a holiday party this evening. It appears that I will have to make more today... (it seems as though the "gremlins" must have found them over night). When reading the prior reviews, I decided that I could sub brown sugar for the Muscovado, and it worked just fine. Mine don't look nearly as pretty as some pics posted on this recipe, but they do taste wonderful! Well, I'm off to make my next batch (and this time I will hide them). Thanks for posting. "Happy Holidays". (Made for PRMR)
Beat the butter and sugar until fluffy, and then beat in the flour and oats.
Press the mixture into an 8" square tin, and bake at Gas mark 4 for 25 minutes until golden. Allow to cool.
For the caramel filling, mix all of the ingredients in a pan until well combined and boil over a low heat until thick-about 3-4 minutes.
Pour over the biscuit base and leave to set.
Melt the chocolate and pour over the caramel, leave to set, but just before it gets too hard, mark out your portions. If you do it when completely set, the chocolate shatters.