Middle Eastern Inspired Fruit Platter
Mulligan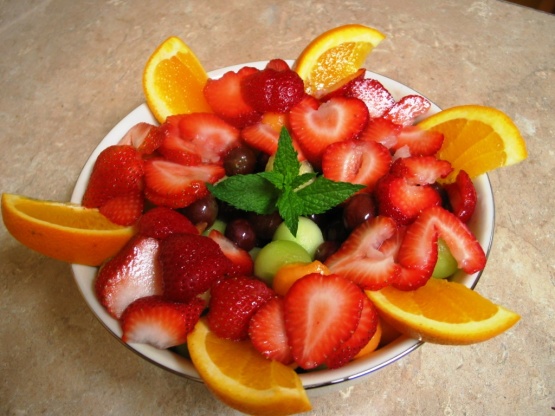 Not so much a "recipe" but I make this at least once a week in the summer-if not more often. (I don't even bother peeling the melons or orange.) One of my favorite ways to serve fresh fruit! Recently discovered Temptation melon is really good in this recipe! If I have any raspberries, marionberries, blueberries, blackberries available, I'll throw in a handful of those, too!

Love this! I've never added anything else to my fruit salads so this was a nice change! I had so much leftover that I froze it and I'm planning to make breakfast smoothies out of the frozen fruit. The rose water and orange blossom water should make a nice addition to the boring smoothies. Made for ZWT6, Redhot Renegades.
Arrange sliced fruit artfully on a pretty platter. For presentation, I like to place the strawberry slices upright between the slices of melon. The grapes I arrange around the outer edge of the platter.
Drizzle with the rose water and orange blossom water.
Garnish with mint leaves.