Microwave "Roasted" Potato Wedges
~cbw~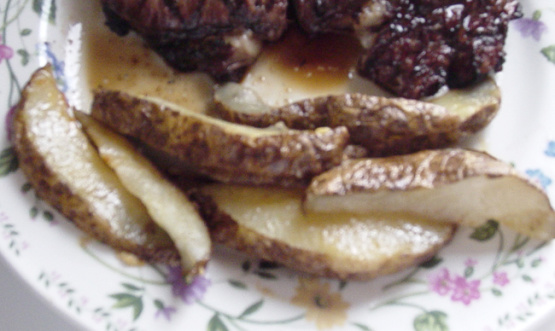 This quick and easy no fuss potato recipe is great for summer nights when you want spuds but dont want to heat up the oven. 125 calories per serving.
2

tablespoons olive oil

1

clove garlic, minced finely
1⁄2 teaspoon salt
1⁄8 teaspoon paprika

1

teaspoon browning sauce (Kitchen Bouquet)

4

medium potatoes, scrubbed and cut lengthwise into wedges (skin on)
in an 8x12 microwave safe dish, cook oil, garlic, salt, and paprika on high 30 to 45 seconds or until garlic softens.
Stir in browning sauce.
Add wedges to oil in dish, stirring to coat all sides.
Cook covered on high 15 to 18 minutes turning over and re-arranging twice.
Discard oil mixture when you're done.