Xanthia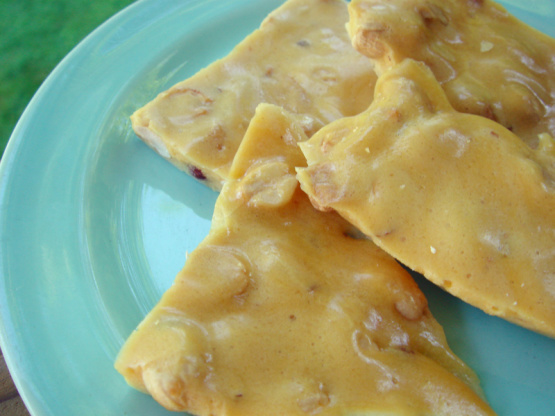 I had this recipe years ago and managed to lose it, but found a friend at work that had it and I am back in the brittle business. It is extremely easy and quick to make. Since most people have the ingredients in their pantry and freezers, it is a recipe that can be made up in a few minutes if unexpected guest show up.
Outstanding peanut brittle recipe! This will now replace my tried and true recipe that I have used for 40 years. Why?...because it is much faster and since it makes about half as much it is easier to handle by myself when it comes to pouring and spreading quickly before it hardens. I cooked this in a 2-quart size glass batter bowl with a handle and pouring spout and it worked perfectly. I used 1 1/2 cups of peanuts because we like lots of peanuts in our brittle. It took about 13 minutes to cook in a 1000 watt microwave (probably took longer because of adding more nuts). I have found that the secret to very thin brittle is to stir the soda in very quickly and pour the mixture out onto the pan while it is still actively foaming, spread it out and then lift the edges and stretch even thinner. I spray my utensils with non-stick cooking spray, as well as my pan and the spout of my batter bowl so it slides right out. Thanks for a great recipe, Jellyqueen!
Line baking sheet with wax paper.
Spray wax paper with Pam.
Combine sugar, salt and Karo in a 3 quart microwave safe glass bowl.
Stir in peanuts.
Microwave on high until light brown (8 to 10 minutes) stirring at least 2 times during cooking.
Remove from microwave and stir in remaining ingredients adding baking soda last (mix will be foamy).
Stir quickly and pour onto wax paper.
Spread thin for brittle candy.
Note: You can use any type nuts you prefer or even sunflower seeds (which is my favorite).