Easy No-Fail Microwave Peanut Brittle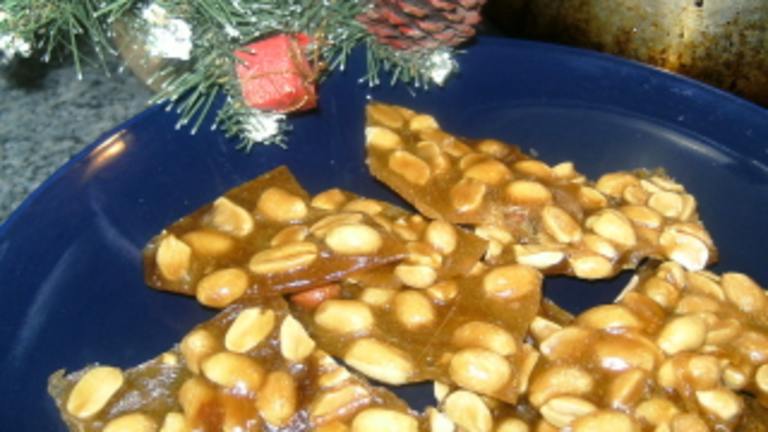 I have been making this since microwaves first came out, it's so easy and really a no-fail recipe, you may use other kinds of nuts if desired --- *warning* this is very habit-forming :)
Ready In:

13mins

Yields:

Units:
directions
Combine sugar and corn syrup in a 3-qt heat-resistant plastic microsafe bowl.
Microwave on high for 5 minutes.
Stir in peanuts; microwave on high for 2-3 mins longer, or until peanuts and syrup are lightly browned.
Add butter, vanilla and baking soda.
Mix until light and foamy (be careful, syrup is HOT!).
Pour quickly onto a buttered cookie sheet, and spread to desired thickness.
When cool, break into pieces.
Submit a Recipe Correction
RECIPE MADE WITH LOVE BY
"I have been making this since microwaves first came out, it's so easy and really a no-fail recipe, you may use other kinds of nuts if desired --- *warning* this is very habit-forming :)"
While I was at my vet the other day, a customer came in delivering peanut brittle as a thank you treat. The tech asked if I would like a piece and I jumped up after all their oohs and awwws. I found myself doing the same! My candy thermometer broke a couple of years ago and I didn't intend to replace it, but she mentioned although she doesn't cook, she makes this in her microwave each Christmas. I thought ok, when I get home I'll google it. There were many recipes so, I read through most and decided on this version. I made one batch and although it was delicious, I had some trouble getting it out of the bowl faster than it was setting up, and it was a little thicker than I wanted. When my husband got home I decided to make another batch. I adjusted my microwave time after adding the peanuts by 40 seconds until I saw more of a Carmel color to it. I also heated my cookie sheet up in a 200* oven instead of just the warming cycle. My husband stood by with his oven mitts on while I quickly mixed in the last ingredients., and he poured onto the cookie sheet while I spread. This time, it worked so much easier. I'll break it up and just add to the other batch. They taste the same and it'll be everyone's preference for thickness. I did as another reveiwer and sprayed my measuring cup (for the syrup) and bowl to help it to poor out easier, and used a 2.5 Pyrex glassbowl.

Wow, this taste soooooo good. It took me 3 tries to get it right. Kind-of wish it hadn't, I can't stop eating it. I think all the receipes are about the same, it all is in the microwave. I didn't know my watage, so took awhile to get it right. I was going to give up. Now that I know how many minutes to cook it, it is going to be really easy. I didn't know where or how to buy the peanuts, & found raw ones in the produce, so have to remember to put a little salt in.