Mexican Style Hot Pickled Carrots
gailanng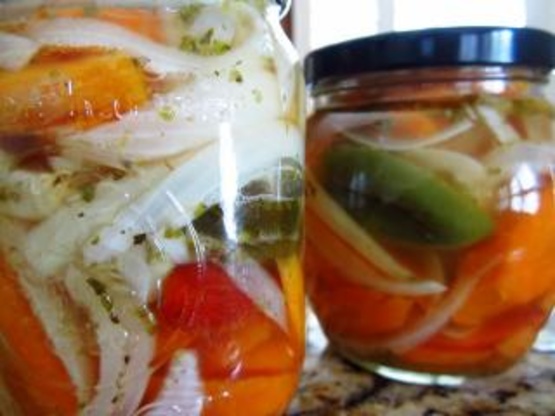 These are the hot carrots like you get in Mexican restaurants. They are positively addictive. I usually make a batch and share with a friend or neighbor. This recipe comes from a restaurant in San Diego called Alta Vista. It was owned and run by a woman named Mary Sargent. Her loyal customers were saddened when she closed her doors and retired, but at least we are able to make these delicious carrots.

Very tasty! I used one quart of water and a 12-ounce jar of jalapeño peppers. Black peppercorns were also added to the mix. My carrots were the little baby carrots. They were really thin and small so there was no need to boil them. I just packed them into jars and ladled the boiling mixture over them and capped and sealed. This makes a great crunchy snack to take the place of a high fat crunch from potato chips.
Put carrots in a large 3 or 4-quart pot. Add warm water and bring to a boil over high heat.
Boil for 5 minutes and then remove from heat.
To pot, add the peppers, onions, oregano, garlic, vinegar, bay leaves and salt.
Let cool for 2-3 hours. Put in jars and place in refrigerator. These will keep for a week after opening jar.
Can also be kept in airtight containers in refrigerator.
Makes 8-9 cups.