lazyme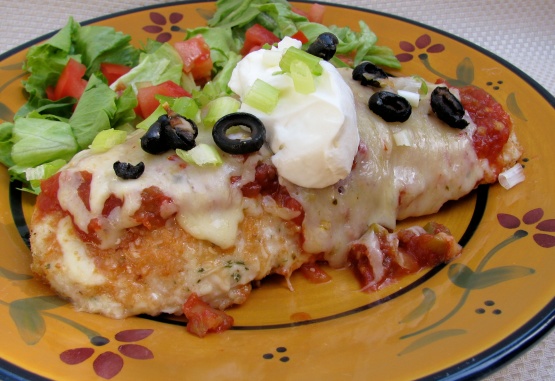 salsa in place of barbeque sauce makes for a great chicken monterey

Im going to have to try this one again... it was almost dont when i heard a terrible crashing sound in the oven, MY PYREX PAN BLEW UP!! YIKES! I was so excited about this too :( will get another pan soon and try again.
preheat oven to 425.
coat both sides of chicken with mayonnaise.
mix together parmesan cheese and breadcrumbs.
dip the chicken breasts in crumb/parmesan and cover evenly.
place into a 9x13 baking pan.
bake for 15 minutes then top with with salsa and jack cheese and bake 5 minutes until cheese is melted.
garnish with sour cream onions and olives.