Mexican Layered Fruit Salad
katew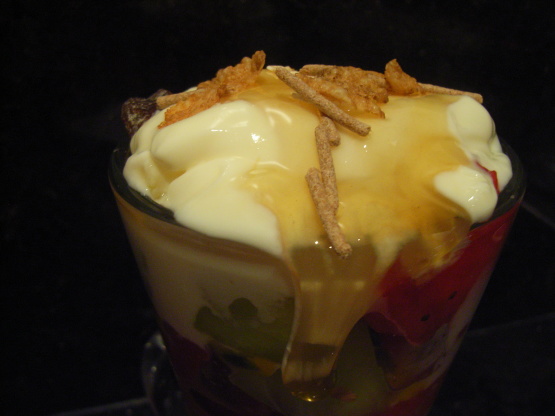 The authentic Mexican version uses cream and a sprinkling of pomegranate seeds. This version uses yogurt, coconut, and walnuts for color and crunch.

This was a wonderful fruit salad. Loved the blend of apple, papaya, banana and pineapple ~ dueling tropical flavors with the juices mixing in the bottom of the bowl. Refreshing and easy to put together, I had this as a snack before the gym. I used pecans, more than the recipe stated (personal preference) and with the coconut, these were the perfect finishing touch with the honey drizzle. Will definitely make again, as DH used his portion on angel food cake for dessert ~ he LOVED it. BTW ~ we at the whole bowl between the 2 of us! Thanks morgainegeiser ~ made for ZWT5 ~ MEXICO.
1

large sweet apple, unpeeled, cut into small cubes

1

ripe papaya, peeled and cut into small cubes, seeds discarded

1

large ripe banana, cut into small cubes

1

cup ripe pineapple, cut into small cubes

1

cup nonfat vanilla yogurt

1

teaspoon shredded unsweetened coconut

1

tablespoon honey
Chill all fruit before preparing the salad. Cut the fruit and assemble the salad just before serving.
Layer the fruits in the order listed. Spread the yogurt over the top of the salad. Sprinkle evenly with coconut and nuts. Drizzle with honey.
Serve right away.