seesko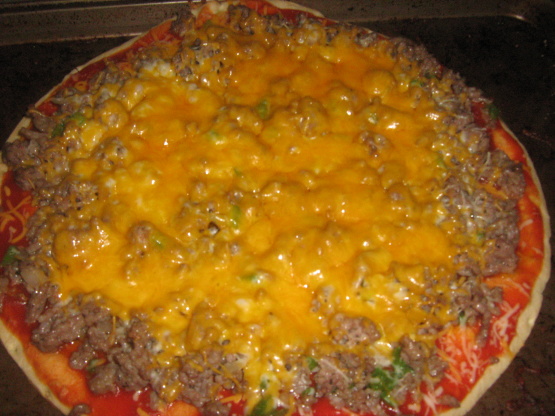 A lovely simple and tasty pizza, found in my Take 5 ingredients book. Add extras to the chicken if you like, I also added a can of Mexican chili beans to mine which was great!

Top Review by seesko
Wow Mandy! We really enjoyed this. I made it two ways. I made one pizza with ground chicken and the other with ground sausage. We topped it with lettuce, tomatoes, and some of us used sour cream. When I was in high school the only meal they made that I liked was called fiestadas. This was similar and we so much enjoyed it. Thanks so much Mandy.
Cook chicken mince in a greased and heated pan, breaking up any large clumps until mince is just cooked through, remove from heat.
Place pizza bases on oven trays and spread taco sauce over them, sprinkle with cheese and then top with cooked mince, capsicum and tomatoes.
Bake at 190°C in a preheated oven for 20-25 minutes or until bases are crisp & topping lightly browned.