Mesquite Grilled Pork Chops
teresas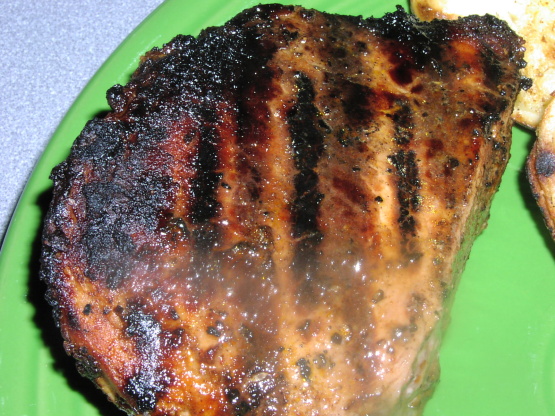 This recipe comes from Weber's Big Book of Grilling. I have to admit I was skeptical when I read the list of ingredients for the paste - I just wasn't sure if I would like the flavor combinations. DH cooked these to perfection and the flavor was great. I highly recommend this recipe for grilled pork chops.

I really liked this dish. The flavors blended well together. There was a lot of paste and I did use it all like the recipe required. My chops were only 1 1/2 inches thick, so I adjusted the cooking time. They came out looking and tasting great. Everyone should give these chops a try. Thanks, Luby for posting this recipe.
Place mesquite chips in water and let soak for at least 30 minutes.
Set pork chops out at room temperature for 30 to 45 minutes before grilling.
Combine all paste ingredients.
Spread paste mixture on pork chops covering all sides completely using all of the mixture.
Drain mesquite chips and place in a small disposable aluminum foil pan.
Preheat gas grill on high until hot using both burners.
Lift up grate on one side and place aluminum foil pan directly on fire.
Sear the pork chops over direct heat for about 6 minutes turning once halfway through searing time.
Turn fire down to medium heat under aluminum foil pan hodling mesquite chips and turn off fire on the other burner.
Place pork chops on grill side with no heat.
Continue to cook with lid closed over indirect medium heat until juices run clear and internal temperature reaches 160 degrees, about 25 minutes.
Remove from grill, cover with foil and let rest for 5 minutes.