Ycooks2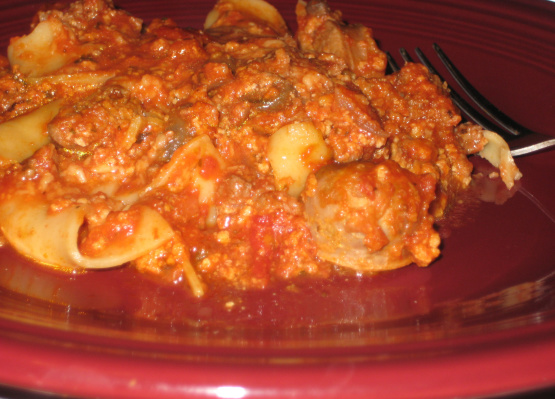 I made this for an office luncheon and it was a huge hit. The combination of meats and mushrooms make it a very hearty meal. The ease of the crock pot makes it super simple and quick to put together!
I love this recipe. It isn't quite the same as a traditional lasagna made in the oven, but when you need a fast alternative, you can't go wrong with this recipe. I made it for an office luncheon one day and everyone was surprised at how easy and delicious it was. Nothing says good recipe like bringing home an empty pan.
Cut sausage into slices. In a large skillet add: sausage, ground beef, mushrooms, and onions. Sprinkle with Italian seasoning. Brown until cooked through. Drain and add one jar of spaghetti sauce to the meat mixture.
Mix the water with the other jar of spaghetti sauce. Spread a small amount on the bottom of the crock pot to prevent sticking.
Place a layer of noodles in the bottom of the crock pot. You may have to break into pieces to fill in spots.
Layer with sauce, meat mixture, spoonfuls of ricotta, and mozzarella on top of the noodles. Repeat layers.
Cover and cook on low for 5 hours or high for 2 1/2 hours.