Meatloaf. My Neighbour's Recipe
ImPat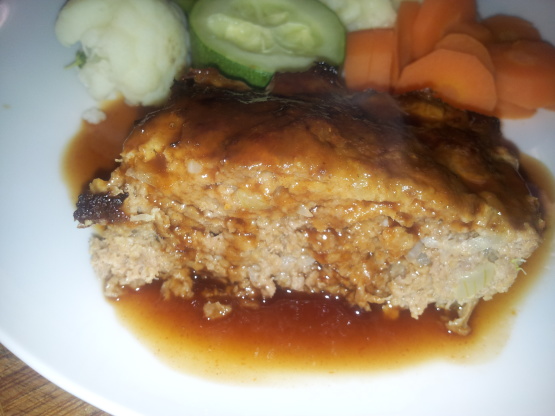 My neighbours recipe. The lemon and curry powder just add something different, and the sauce something else again.

Top Review by ImPat
The DM raved about it but to be honest I found the sauce to be too sweet and also at the end of the day I ended up with a gut ache which I think was using the sausage meat (I usually only make meatloaf using very lean mince), but that said I would consider making it again but cutting back the brown sugar to a couple of teaspoons and using all lean mince/ground beef. I also scaled this back for 4 serves but was only serving 3 but the extra will go into a lunch time sandwich, thank you JustJanS, made for Name that Ingredient tag game.
Meat loaf: Combine all ingredients, place in a loaf tin and bake in a 200c oven for about 45 minutes, or until cooked through.
Remove from the oven, allow to stand about 15 minutes before serving.
*Ilike to pour off any fat that accumulates around the loaf about 1/2 way through cooking.
Sauce: Combine all ingredients in a saucepan and bring to the boil.
Simmer about 5 minutes, then serve*My neighbour recommends doubling the sauce quantitiy.