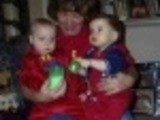 This is a recipe I have had since the late 1960. Great one dish meal with your meat and vegetables cooked together.
Directions
Combine beef, bread crumbs, 1/4 Cup of the chopped onion, egg, 1 1/2 tsp salt, the pepper, Worcestershire sauce, and 1/2 cup of the tomato sauce.
Roll the meat mixture into about 16 balls and brown them in the oil in a skillet.
Add the rest of the chopped onion, carrots, potatoes, 1 tsp of the salt, the rest of the tomato sauce, beans and the water.
Simmer covered for one hour stirring occasionally.
Gradually mix with the flour with 1/2 cup of the liquid from the stew, then pour that over the stew and continue to heat until the stew thickens.
Most Helpful
This was really good and didn't take long to make at all. I added some garlic and basil to the meatballs. I transferred this to a dutch oven when the meatballs were browned. I had to add about 3/4 cup of water, my sauce had really reduced down. Also I made some rice to serve with it (my husband really likes rice with his meals). This was very tasty. Thanks.

What a delicious stew. I used ground Lamb instead of Beef, found that I only had 1 can tomato sauce, so I used 1/4 cup catsup and some of the tomato sauce in the maeatballs, used the rest of the tomato sauce in the stew along with a cup of V-8 juice, this worked out great. Also added 1 teaspoon Real Beef Base(in a jar) and about 1/8 teaspoon pepper flakes for a little Zip. Thank you Trisha, love the recipe. Next Time i will make sure I have the 2 cans tomato sauce.