CAJUN MEATBALL STEW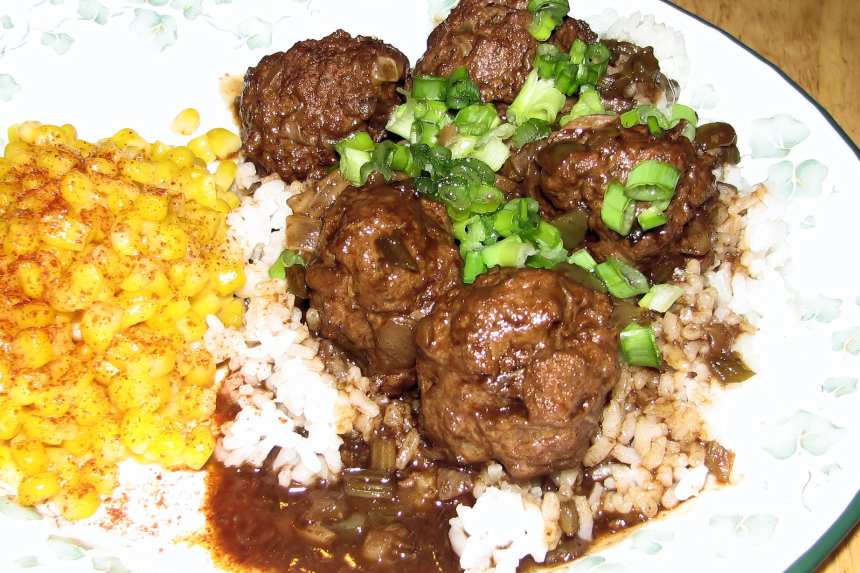 photo by Irishcolleen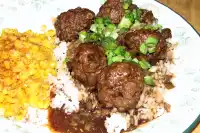 Ready In:

1hr 45mins

Ingredients:

15
directions
In heavy dutch oven (preferably cast iron or cast aluminum), heat oil over medium high heat. Add flour. Stir, constantly, until flour is dark brown, being very careful not to burn. Flour should be almost the color of chocolate syrup. This is your roux, which is the base of your gravy.
To the flour mixture, add 2 cups of the chopped onion, 1 cup of the bell pepper and 1/2 cup of the celery. Reduce heat to medium, cooking until onions are transparent. Add enough water or beef broth to fill pot 2/3 of the way. Bring to a boil, then reduce heat to a simmer.
While this is cooking, make meatballs by combining ground chuck, remaining onions, bell pepper, and celery, 2 cloves of the minced garlic, eggs, milk, worcestershire sauce, 1/4 cup of the parsley, bread crumbs, and salt and cayenne pepper. Mix well.
Form into whatever size meatballs you prefer. I like to make mine about 1 1/2 - 2" round. One trick to making tender meatballs is not to pack the meat too firmly. Just form them enough for them to hold together. Also, do not pre-cook the meatballs after rolling.
Add meatballs to the gravy. DO NOT STIR FOR AT LEAST 20 MINUTES! Stirring them will break them apart. Cook over medium low heat until gravy is desired consistency. Adjust seasoning with salt and cayenne pepper. Skim as much of the fat as you can off of the top.
Stir in remaining garlic, parsley, and chopped green onions. Cook for 5 minutes longer.
Serve over hot cooked rice. I usually serve this with a side of early green peas or corn, and a fruit salad of some kind, such as pineapple, topped with grated cheddar cheese.
As for the prep and cooking times, I just took a wild guess. Hehe!
Reviews
Thank you so much for this!! It's simply perfect. I always wanted to learn to make this and never could get it right! I lost my family at a young age of 20 and right around the time I started to have children, so I wasn't able to consult my mom for help making authentic southern dishes! Its so wonderful to be able to recapture that acadiana cajun taste! Thanks again

 
RECIPE SUBMITTED BY
Hi! I'm of Irish heritage, with a little bit of American Indian, Spanish, and English in me. I was raised in the heart of Cajun Country, but have traveled extensively in the U.S. and abroad. I'm in the restaurant business and have worked in every aspect of it for the past 35 years. I'm also a Jazz vocalist. My passions in life are singing, gardening, and cooking. I'm in the process of writing a cookbook, as a legacy to my mother, who passed away in 1979, who was a fabulous cook, and who always wanted to write her own cookbook. I have one daughter, and a beautiful granddaughter, who is the love of my life. I can't wait to be able to teach her how to cook and cook with her! Thanks for your interest in me! God bless you and have a wonderful day!
View Full Profile