Rita1652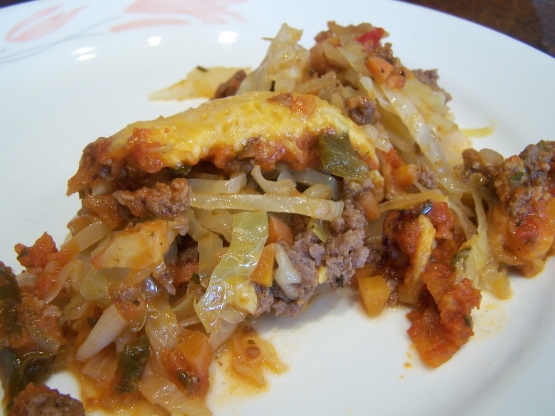 Much the same flavour as stuffed cabbage rolls, but is much easier to prepare.
This casserole is so yummy with the shredded carrots. Next time I'll add more carrots and more cabbage. 3 cups of cabbage doesn't give a lot in a serving. Because when cooking it reduces a lot. Thanks Mustang Sally :) Made for Bargain Basement tag game
In medium skillet, saute onion in butter until soft, but not brown.
Add ground beef. Cook, breaking up the meat until done.
In a 2-quart buttered casserole with cover, layer the carrots and half the cabbage. Sprinkle with salt & pepper.
Add meat mixture, press down slightly.
Add remaining cabbage.
Combine spaghetti sauce, Worchestershire sauce & chives.
Pour sauce over top casserole.
Cover & bake at 350° F for about 1 hour or until cabbage is soft.
Add cheese on top, bake uncovered for another 5-8 minutes until cheese is melted.