ImPat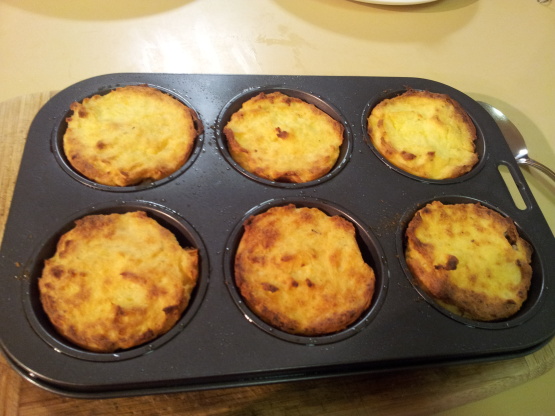 Long ago, when we were in a "Gourmet Group", I served something very similar to this, only it had another layer of something. I recall it was green, but not the veggie nor the prep. This serves well with almost any meat, and being self-contained, stays attractive on the plate. Low fat ricotta and sour cream can be substituted.

Top Review by Jen T
These made a lovely surprise for our dinner served along with sausages, peas, and caramelised red onions. I would certainly serve these to guests. I do feel they need a gravy or sauce with them though as I found them a little dry but that could have been because of the potatoes I used. I plan to have them again soon with a mushroom sauce like Baby Kato. I made half the recipe and made into 3 Ramekins. They came out beautifully. Thanks for such a great dish fit for company. Made for NZ/Aus swap May 2011
Place potatoes in saucepan, cover with water, and bring to boil.
Reduce heat, cover, and cook for 20 minutes, or til tender.
Drain; mash potatoes with butter and onion until small lumps of potato remain.
In a mixing bowl, beat ricotta, sour cream, salt, garlic powder, rosemary and pepper until smooth.
In a small bowl, beat egg whites until frothy; fold into cheese mixture;.
Fold all into potato mixture.
Generously coat muffin tins (or small ramekins) with non-stick spray.
Sprinkle muffin cups with bread crumbs.
Fill with potato mixture, smooth tops.
Bake uncovered at 425 degrees F. for 27-30 minutes - or until edges of potatoes are slightly browned.
Cool on baking sheet for 15 minutes.
Loosen timbales from sides of muffin cups; invert onto baking sheet to remove.