Mary Mazzie's Anise Cookies
Charmed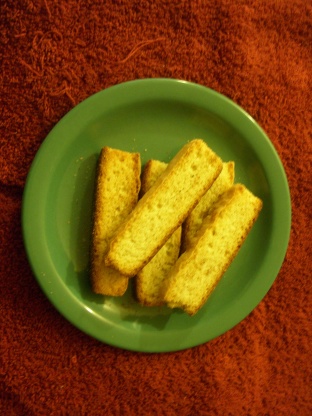 These will remind you of those store bought cookies we all love by Stella D'Oro. Slightly crisp on the outside but soft in the middle. I found this recipe on another site (oops! don't tell!)

These are so very good! They adapt very easily and happily to being diabetic friendly too. I've been making cookies for everyone else but I've had my eye on these anise cookies for a good while and decided to make them for me. The good part is that I'm the only one here that enjoys anise :D. Anyway, I used 3/4 cup of egg white, 1/4 cup sugar and 1 1/4 cups Splenda, cut the anise extract to 1/2 a tsp and added 2 1/2 tsp's anise seed (I love the taste when you bite them). I need to say that I used a 7x11 pan and got 34 beautiful biscotti. They are crisp but very light and have an airy texture, they are excellent little coffee dunkers. For being so incredibly quick and easy to make they delivered much more than I expected. I'll make them again before Christmas and next time I'll dip half of them in chocolate! YUMM.
Preheat oven to 375.
In a medium bowl, stir together the flour and baking powder; set aside. In a large mixing bowl, beat eggs until they are light and fluffy. Gradually add sugar and beat for about 3 minutes. Stir in the oil and anise extract. Fold in the dry ingredients and blend well. Spread the mixture into a 9x13 inch pan and bake for 15 to 20 minutes in the oven.
When the pan cools slightly, cut the cookie down the middle, lengthwise. Cut each half into 1/2 inch slices. Place slices onto a cookie sheet and return to the oven long enough to brown on each side, like toast. Watch so you don't burn them! :).
Store in a tightly covered container.