Prep 10 mins
Cook 30 mins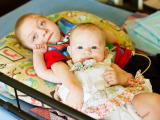 This is one of my families favorite soups. My aunt found it somewhere and passed it along to us. It is easy, quick, and freezes well.
Directions
Saute onions in a large pot sprayed with cooking spray.
Add all other ingredients and bring to a boil.
Lower heat and simmer for 30-40 minute.
Reviews
Most Helpful
Yummy, easy, lowfat and inexpensive! What's not to love? I loved the thick texture from the refried beans. This soup really warms you up. I garnished mine with crumbled queso fresco. Thanx for posting; I'll make this again, since I always have these ingredients on hand.

I have made this soup twice since you posted it 3 days ago. The first time I made it, I messed it up so badly (my fault not the recipes) but my family still loved it. I mistakenly added 2- 19 oz cans of tomatoes, so I added 2 cups extra broth, 4 tsp of sugar, some black pepper and pasta. Both times I forgot to add the refried beans. The second time I made it I also added some diced potatoes I needed to use up. This is quite a versatile recipe and for me it made a huge pot full that was gone in an evening. I also used "Taco Seasoning Mix" in place of the packaged seasoning. Thanks for the recipe.