Marvelous Macaroni and Cheese
Karen..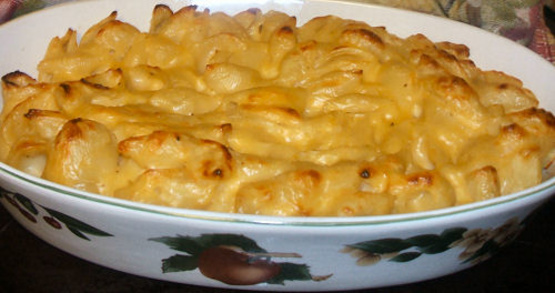 This is the most awesome Macaroni & Cheese that we have ever eaten. It is a family favorite and we have it once a week. All four of my kids request it often, and my husband thinks it's incredible. Hope you enjoy this comfort food.

Top Review by Laudee
Hi Karen: Made your YUMMIE Mac and Cheese dish this evening. It is Sooperb! I cut the ingredients in 1/2 as there are only two of us here. Didn't hurt a thing! Tis creamy, golden, and downright tasty! Thanks for another winner! Sincerely, Laudee C.
Preheat oven to 450 degrees.
Cook macaroni according to package instructions.
Drain, rinse and set aside.
In same pot over low heat, melt the butter.
Add flour, salt and pepper and whisk into melted butter until smooth.
Simmer and stir until mixture thickens into a paste and is golden.
Slowly add milk and whisk into butter mixture until smooth.
Bring to boil and then simmer until thickened.
There is no way to tell you how thick, except to say it should be thicker than gravy but not as thick as pudding.
If you have made basic white sauce, you will know when it is thick enough.
Remove pot from heat.
Add cheddar cheese and stir until cheese starts to melt.
Add macaroni and stir until coated.
Pour into a 9 x 12 baking dish or 2 quart casserole.
As an extra indulgence, you can sprinkle 4 oz more cheese on top.
I only do this if I happen to buy a 12 oz bag or block instead of 8 oz.
Bake about 20- 30 minutes, when you see top getting a bit crispy and brown.