Marsha's Whole Wheat Pizza
Elodie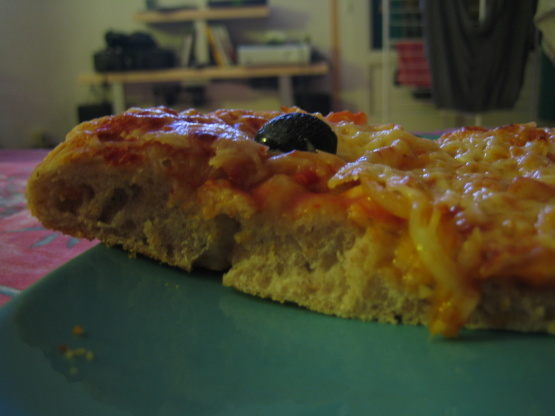 My friend Marsha has made pizza every Friday night for many years. This healthy whole wheat version is delicious. Add any other toppings you like to this basic version.

AWESOME pizza crust! The smell of this rising in the kitchen nearly drove me to a topping frenzy. I mixed it up the night before, took it out of the frig next morning and let it rise all day. This made four 12" crusts, so I was able to put 2 disks of dough in the freezer. We like our crust thin and crisp, so if you prefer thick and soft, you'll get fewer crusts from the recipe. I used PetitFour's Potato, Onion and Rosemary Pizza recipe for the topping. For those who are new to the process, I used 1/4 cup water and a pinch of sugar to dissolve the yeast and somewhere around 2 1/4 - 2 1/2 additional cups of water for the dough. What is truly awesome, is that this delicious pizza is much healthier than most.
Mix dough ingredients together.
Let rise until doubled.
Heat pizza stones at 500 degrees.
Roll out dough and let rise again, about 10 minutes.
Take stones out of the oven, smooth on the dough.
Put on a little olive oil, fresh chopped tomatoes, mozzarella, S&P, oregano, parsley Cook in 500 degree oven for 12-15 minutes.