Marmie's Meat and Asiago Stuffed Portabella Mushrooms
Marmies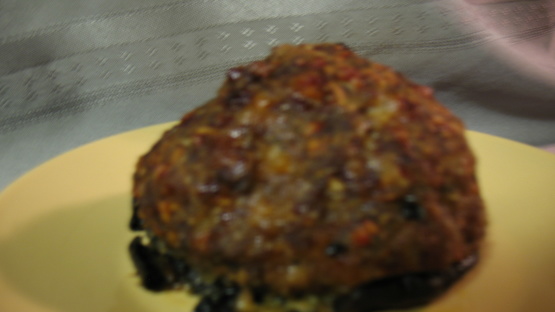 My local grocery store makes these in the meat department and charge way too much for them!! I have not tasted theirs but I knew I could make similar, more cost efficiently. I searched online for a meat stuffed portabella and could not find one. Thus, time to get somewhat creative.... We really like how the asiago cheese and italian seasonings compliment this unique little meatloaf. Here is hoping you like it as well. Note the photo does not do the dish justice....
1

lb lean ground beef

1

lb ground lean pork

1

large egg, lightly beaten

1

cup asiago cheese, shredded
3⁄4 cup crouton, Multi Grain Caesar flavor, finely ground
1⁄4 cup oats, large flake, finely ground

3

tablespoons italian seasoning (I used even more, but I like it seasoned more heavily)

8

garlic cloves, coarsley crushed
1 1⁄2 teaspoons kosher salt

1

teaspoon pepper, fresh ground

4

portabella mushrooms, washed, with stem and gills removed

1

tablespoon olive oil
In large bowl, mix first 10 ingredients well. (I use my hands.).
Drizzle a bit of olive oil in each mushroom.
Divide meat mixture evenly into 4 portions.
Pat meat mixture into a little meatloaf to fill the centre of the portabella mushroom.
Spray pan with non stick spray and place stuffed mushrooms on pan.
Bake 350 degrees for 30 - 40 minute untill cooked through and browned.
(1/2 of one of these delicious mushrooms was lots for me for dinner with potatoes and salad.).
Enjoy!