Marmie's Ever Changing Multi Bean Salad
Marmies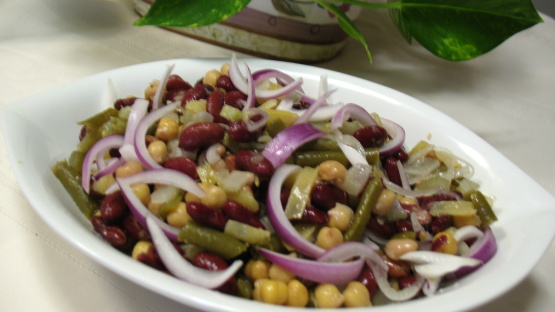 This is the perfect blend of Tangy/Sweetness, it is remarkably mild, not oily and is hugely versatile! Wonderful for picnics, lunches to go or just an added side at dinner. I do NOT like apple cider vinegar but in this recipe it is fabulous, especially for bean salad skeptics like me. I make it in a one gallon ice cream pail and store it in the fridge, when it begins to run out I add a can of what ever bean I have on hand and a few more red onions. I can do this until the 'brine' runs out. Then I just start all over again and always have it on hand. Fresh cooked beans have a nicer texture and are more cost efficient than canned but canned is yummy too, though do contain lots of sodium. So if you are on a sodium restricted diet, I would suggest cooking dry beans and fresh green and yellow beans for this recipe. Enjoy!

oh ya this is a great salad very similar to the one I make - I thinly slice cauliflower and green peppers and throw them in too
1

(19 ounce) can red kidney beans (drained and rinsed)

1

(19 ounce) can beans, mixed ("Bean Medley" mine had Chick Peas, red Kidney beans, Romano Beans, and Black Eyed Peas (drained and )

1

(19 ounce) can chickpeas (drained and gently rinsed)

1

(14 ounce) can wax beans, no salt (yellow)

1

(14 ounce) can green beans (drained reserving liquid)
1 1⁄2 cups celery, chopped

1

small red onion, halved, peeled, then thinly sliced (If I use a stronger onion I soak it in 2 tsp sugar and 3/4 cups cold water for 15 min then drain it )
1⁄4 cup pimento pepper (optional)
liquid from green beans
1⁄2 cup vegetable oil, of good quality (Olive Oil tastes funny in this recipe)
1⁄2 cup apple cider vinegar
2⁄3 cup white sugar
1⁄4 cup rice vinegar, garlic flavor (or 1/4 rice vinegar and 1 clove garlic)
Place all beans, onion, celery and pimento in a large plastic container with a lid.
Pour all liquids and sugar in a 2 quart jar with a lid.
Shake until sugar is dissolved.
Pour liquid over beans.
Cover with lid and put in fridge to chill over night or for several hours, gently mixing occasionally.
Serve with slotted spoon so as not to discard the brine unnecessarily if you plan to keep adding to the bean mixture.