Mariscada Aka Caldo De Siete Mares
Jorge F.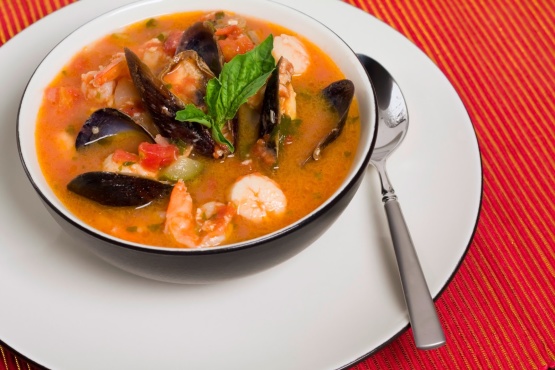 This is served all over Mexico, Central and South America. It is delicious anytime during the year and is popular served as a brunch.

This is a great template recipe and you can add whatever seafood ingredients you happen to have. I used thresher shark, snow crab legs, octopus, shrimp, little neck clams, mussels and bay scallops and it turned out amazing. I did have to change the recipe which I don't like doing the first time I make something, but due to certain things being unavailable I couldn't avoid it. I used "Better Than Bullion" fish stock in place of fish bullion cubes but it doesn't really matter, it's just as good or better (hence the name, haha), I really don't like the taste of epizote so I only put 2 leaves in at about the last 5 mins of cooking the stock. With 4 cups of the water called for I thought I would use up some shrimp heads and shells I had saved to make stock out of them. I also like to splash a little bit of "Mexico Lindo" salsa de siete mares sauce in right before I eat, lots of lime juice and eat it with chips or tostadas. So good, I've had this at at least a dozen Mexican restaurants and taco shops and this is as good or better that those places, I recommend it highly.
2

lbs catfish (whole, cut into 3 inch peices with bones left in)

1

lb shrimp (shells and heads left on)
1⁄2 lb baby octopus (cleaned)
1⁄4 lb squid (cleaned and cut in peices)
1⁄4 lb green mussels (I use the frozen kind)

4

small blue crabs
1⁄2 white onion (cut in thirds)

1

tomatoes (quartered)

1

bunch fresh epazote (or cilantro)
1⁄2 bunch fresh cilantro (minced)
1⁄4 bell pepper

8

cups water

1

tablespoon butter
Place the water, bouillon cubes, onion, tomato, and bell pepper in a large pot and bring to a boil.
In a saute pan melt the butter on medium high heat and add the peices of cat fish in the pan. Season the fish with lime juice and salt and cook on medium high for 4 minutes until the skin starts to peel from the fish. Turn the pieces over, season with lime juice and salt and cook for an additional 4 minutes.
Turn down the heat on your pot to medium and carefully add in the cat fish, shrimp, mussels, octupus, crabs and squid. Add the minced cilantro and the epazote and stir the top just to barely incorporate the cilantro.
Cover the pot and cook on medium for 15 minutes. Turn the heat off and allow the soup to sit for 5 additional minutes.
Serve the soup with fresh limes, salt, and corn tortillas. Sometimes I even dice onions, cilantro and radishes for garnish.
Note; You can also buy a bag of frozen seafood which would include squid, mussels, octupus, and baby shrimp. This can replace the seafood ingredients except for the large shrimp, crabs, and catfish.