Dorel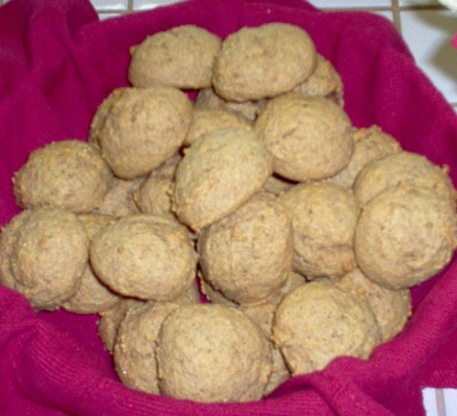 This is a great recipe to use up that 1/2 cup leftover pumpkin. Good flavour too. Made this today and used 1/2 cup Splenda instead of white sugar. Used whole wheat flour instead of white. Used a 1 1/2 in. cookie scoop and made 32 cookies. These are soft cakelike cookies. Raisins or nuts could be added if desired.

this was an okay recipe for me, when I see maple in a recipe I want to taste MAPLE. So with a little tweaking I got the maple flavor I wanted, instead of the brown sugar, I put maple sugar and only put 1/3 cup and put 4 tbsp maple syrup. Other than that, the recipe is one I will be keeping.
Cream margarine and sugars together until light and fluffy.
Beat in egg, maple syrup and pumpkin.
Mix together flour, baking soda, cinnamon, nutmeg and salt.
Stir flour mixture into creamed mixture in thirds.
Drop heaping tablespoons of dough on cookie sheet.
Bake at 350°F for 10-12 minutes.