Maple Mashed Sweet Potatoes
Prep 10 mins
Cook 20 mins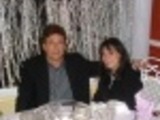 Holiday Side Dishes From Woman's World Magazine 11/23/04. I made these for Christmas Day and they stole the show.
Directions
In pot combine sweet potatoes with enough salted water to cover. Over high heat bring to boil. Cook until tender, 10 minutes. Drain; return to pot.
Meanwhile, in nonstick skillet over medium-hig heat cook bacon until crisp, 6-8 minutes; drain on paper towels. Crumble.
In microwave-safe bowl combine half-and-half and maple syrup; microwave on High until warm, 1-2 minutes.
Mash sweet potatoes with butter until smooth. Gradually mash in maple mixture.
Stir in salt, cumin and pepper. Reserve 1/4 cup bacon and 1 t. chives. Stir remaining bacon and chives into potatoes. Transfer to dish; top w ith bacon and chives.
Most Helpful
These are awesome! I made as directed except that I was out of chives and used green onions to garnish. I considered going back to eat leftovers as dessert. lol. Thanks Jackie for a wonderful new keeper. Made for Whats on the Menu tag.

I've made this for the holidays for 5 years now. I hated the marshmallow topped sweet potatoes we had when I was a child and decided to give these a try. I leave out the cumin but if you try these do keep the bacon- the smoky taste is incredible with the maple sweetness.
I have not made this yet.. but WOW. Maple syrup in sweet potatoes? Sounds amazing. Can't wait to make this.