Maple-Glazed Salmon With Pineapple
Chill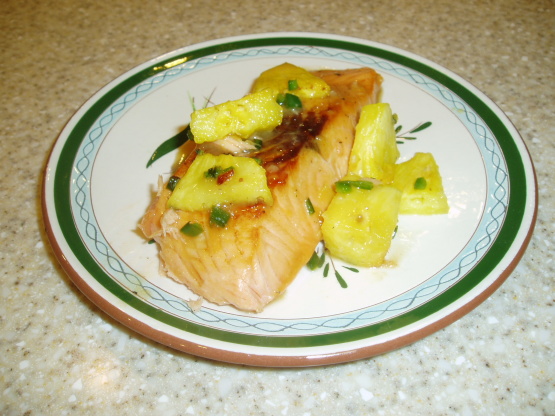 I found this in a magazine (something 'Simple'). It really is good, even for those who aren't fussy about salmon (Moi)!

Delicious! I used red pepper flakes instead of jalapenos. This recipe is a new family favorite.
Whisk together the maple syrup and mustard in a small pan, and bring to a boil over medium heat.
Simmer until slightly thickened, and remove from heat. Set aside.
Place salmon in a foil-lined 9x13" baking dish. Season with salt and pepper.
Scatter the pineapple and jalapneo around the salmon. Brush the salmon with the syrup mixture.
Broil for 5-7 minutes or until salmon flakes easily.
Serve with the pineapple and jalapeno.
Rice is wonderful with this.