Maple Blondie (Applebee's Inspired)
Che Pepe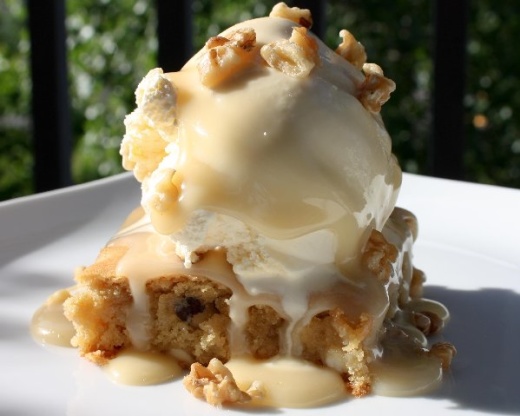 I was sort of let down by the Applebees copycat recipes for their Maple Butter Blondie. Applebees' blondie is nothing like a traditional blondie and is more cake-like and even sometimes dry (all the better for the ice cream and maple sauce). The blondie recipes I found online were always butter-laden with fudgy textures, which I don't care for. So I made this recipe. Second: most of the maple sauces are brown sugar recipes, but Applebees' sauce is white. So I used cream, white chocolate chips and white sugar to keep that coloring. Unfortunately, the maple extract has caramel color, so it darkened the sauce a little bit, but it was still good in my opinion. I hope you like it.
In a mixer blender butter and sugars until creamy.
Add vanilla, then add eggs one at a time and mix until incorporated.
Mix in flour, baking powder and baking soda.
Fold in white chocolate chips and nuts.
Grease a 9 by 13-inch glass pan and smooth top of mixture.
Bake 350° for 25-30 minutes.
For Sauce.
Combine cream, chips and sugar in a saucepan and cook, constantly stirring, on medium heat until bubbly and thickened. Be careful not to burn sugary sauce.
Remove from heat and add maple flavoring. (extract will the darken the sauce slightly but it will still be fairly light colored.).
To Assemble.
Cut brownies and top with ice cream, then top with sauce and sprinkle with more nuts.
Tightly cover left-over brownies.