Manicotti (Beef or Turkey)
Pamela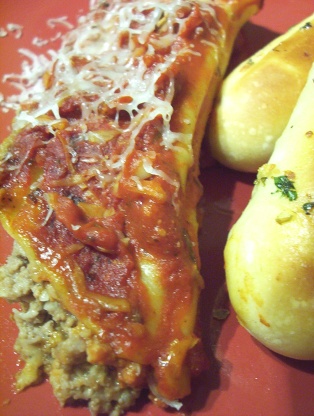 This is an adopted recipe that I chose because I had made and loved this recipe. This recipe freezes great and is a great OAMC recipe. Original intro: "I found this in a TOH magazine and fell in love with it! I have made a few changes to the original to suit our tastes better. I hope you'll like it, too!" (Thanks cbw)

This is a easy to follow recipe but it didn't really say "wow" for us. I personally didn't like the texture of the cooked ground beef that was stuffed in the manicotti, I usually prefer something much smoother...perhaps next time I'll simply try it with only cheese with a meat sauce on top. However, it still tasted good,...will need some tweeking for our family though :) thanks!
Soak bread in water and squeeze to remove excess water; tear into small pieces and set aside.
In a skillet, cook the meat, onion, garlic, salt and pepper until meat is no longer pink and the onion is tender; drain.
Stir in the bread and cheeses; mix well.
Spoon into manicotti shells.
Pour half of the spaghetti sauce into a greased 13x9-inch baking dish.
Arrange shells over sauce and top with remaining sauce.
Cover and bake at 350°F for 25-30 minutes or until heated through.
(You can also do this without cooking the manicotti first, but you'll need to add a little water to the sauce[about 1/2 cup] and about 1/2 hour to the baking time).
Enjoy!