Magnolia Bakery's Chocolate Drop Cookies
CoffeeB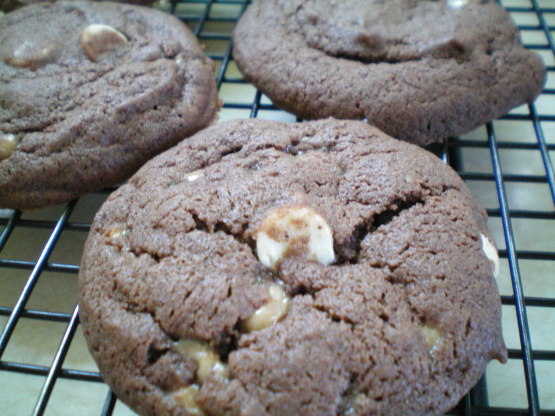 From the famous Magnolia Bakery in New York City. I substituted Almond Roca (a US Pacific Northwest creation!) for the Heath bars.

These are wonderful little morsels with the different flavor blends of whitechocolate and Heath Bar. I used the Heath bits instead of. I went to the Magnolia Bakery as part of a culinary walking tour last summer (07). They (tour director) claimed the products were a bit over-rated as far as price/taste. I did agree compared to some of the other bakeries we went too. All in all it is one neat little place that really attracts. So, when I came upon your recipe, I knew I had to give it a go. Glad I did. Thanks for posting~
Preheat oven to 350°.
Combine the flour, cocoa powder, baking soda and salt in large bowl; set aside.
In another large bowl cream the butter, brown sugar and white sugar until smooth; about 3 minutes.
To the butter mixture, add the eggs and mix well. Next add the milk and vanilla extract. Blend for another minute.
Stir in the flour mixture and beat thoroughly. Add the pecans, Almond Roca bits (or Heath Bars) and the vanilla chips.
Arrange the cookies on a parchment lined baking sheet.
Leave several inches between each cookie as they will need room to expand.
Bake for about 10-12 minutes. Remove from oven, cool cookies on the sheet. Remove the cookies after 1 minute and cool on wire rack.