Maggie's Super Healthy Cilantro Lime Chicken Salad Pita Sandwich
teresas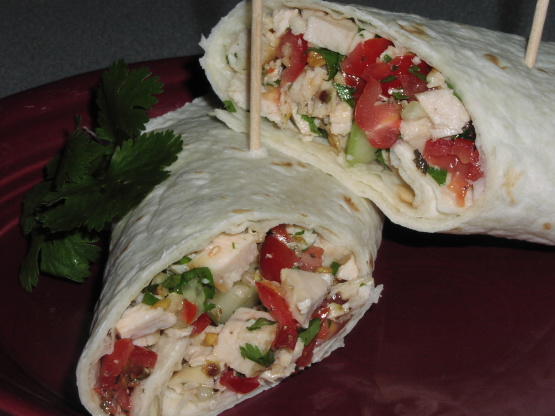 I threw this together on a warm night when I didn't feel like cooking and wanted something cool and healthy but also filling. I was amazed at how low calorie this turned out and also how much I enjoyed it. I hope you do, too! You can easily substitute the pitas with tortillas to make these more like wraps, and there's plenty of flexibility to add or subtract ingredients (like maybe red onion or fresh basil for example - warmed up with a little feta cheese melted inside is not at all bad, either, I've learned). With the 4 servings, each serving will either stuff a half of a pita super full or be just enough for 1 whole pita cut in two filled not quite so full. Your choice.

This was a delicious, light dinner, just as you promised! I did add feta cheese, and my husband had red onion in his (and said it rounded out the sandwich perfectly). Next time, I think I'll cut up the cilantro a bit more, but no other changes! Thanks for posting.
Combine all ingredients in a medium bowl.
Refrigerate an hour or so, if desired. This is optional but does help the flavors set.
Spoon mixture into 1 or 2 pita pocket halves, depending on how stuffed you'd like them.