Parsley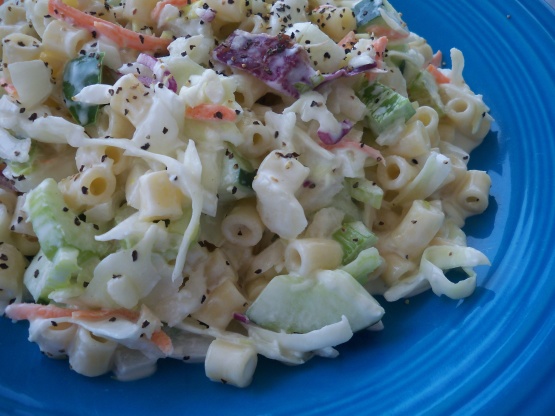 From Taste of Home's Healthy Cooking magazine, June/July 2009. Submitted by Sandra Matteson of Westhope North Dakota. "This recipe comes from my friend peggy. She brought it to a picnic, and everyone leave it so much, we all just had to have the recipe."

It was a little sweet will make it agin cutting down on sugar.
Cook macaroni according to package directions; drain and rinse in cold water. Transfer to a large bowl; add the coleslaw mix, onion, celery, cucumber, green pepper, and water chestnuts.
In a small bowl, whisk the dressing ingredients. Pour over salad; toss to coat. Cover and refrigerate for at least 1 hour.