Luby's Cafeteria Meatloaf
PaulaG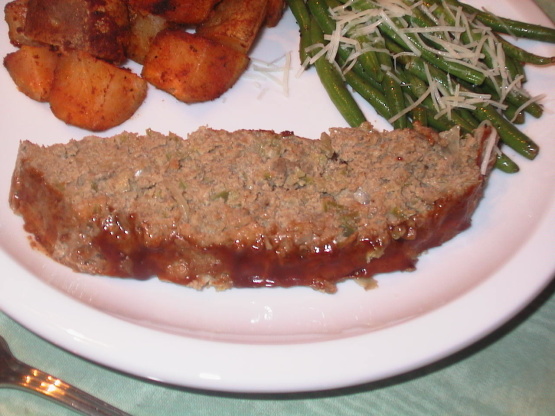 This recipe comes from the Luby's 50th Anniversary Cookbook. It suggests for a different meatloaf to tope it off with barbecue sauce. The leftovers make a good sandwich! I have not made this meat loaf in my kitchen, but I have eaten it at Luby's, and it is very good. The prep time is a guesstimate!

My DH loved this recipe. I made it with 3/4 lb pork Italian sausage. My husband and I like a sauce on our meatloaf so I mixed up 1/2 c ketcup.2 Tblsp mustard and 1 Tblsp worchestshire sauce on poured it over the meatloaf last 1/2 hour. Nice moist maetloaf,the green pepper is what makes this meatloaf...
Heat oven to 350ºF.
Lightly grease a large, shallow meatloaf pan, or a large shallow baking pan.
In a large bowl, combine all of the ingredients, mixing well.
Firmly shape the meat into a 7 x 3 1/2 x 3 1/2- inch loaf and place in the pan.
Cover loosely with foil.
Bake the meat loaf for 1 hour.
Remove foil and continue baking for 5 minutes.
*NOTE:For easy slicing, let the meat loaf stand at room temperature for 10 minutes.