Low Fat Stevia Banana Bread
Chilicat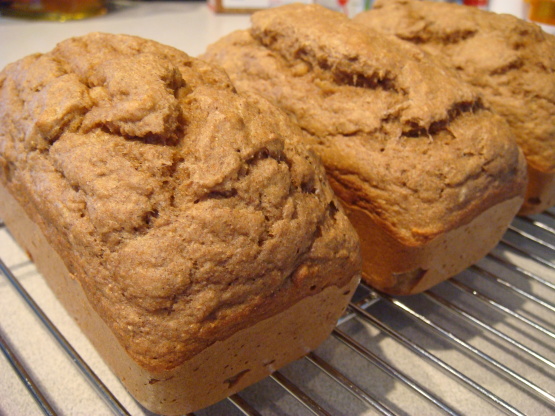 I love banana bread and this is an easy, healthy version that my family really enjoys. One tip - if you're bananas aren't ripe enough for banana bread just pop them in the oven (in the peel) until they darken up. It brings out the sugars and gives them that sweet flavor needed for great banana bread.

This exceeded my expectations for a healthy, low-fat banana bread. I'm not completely sold on the stevia (I find it has an aftertaste similar to aspartame) but the bread itself was soft, moist, rose beautifully and overall had a great taste and texture. My one bit of advice is to make sure you test the bread for doneness in the very center of the loaf. I poked mine somewhere between the center and the short side of the pan and my tester came out clean. The wheat flour made the loaf a nice brown color but after it cooled I found out the very center right under the crust was still doughy. I made three mini loaves and baked them for 23 minutes but I'm thinking somewhere around 30 minutes would have been better. My nonstick pans didn't need any greasing at all though and the loaves dropped out of them just fine. This is a super breakfast bread and I'm sure I'll be making it a lot. Thanks for posting!
Preheat oven to 350 and prepare a 9x5 loaf pan.
Beat eggs by hand. Then add in the applesauce, vanilla, milk and bananas.
In a seperate bowl combine dry ingredients - flour, stevia, baking soda, cinnamon and salt.
Add scoops of the dry ingredients into the egg mixture, mixing after each scoop until all combined.
Pour into loaf pan and bake 45 minutes to an hour.