Low Country Shrimp and Grits
A. Deume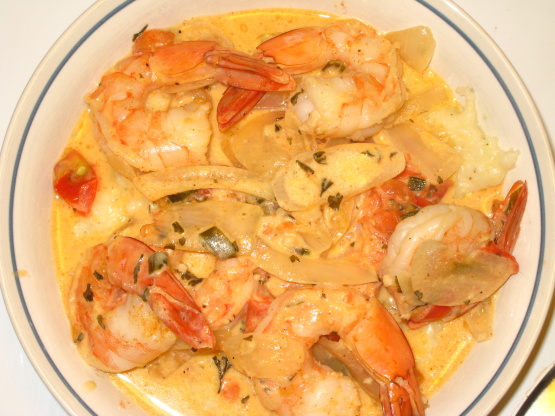 I made this recipe after reading a number of shrimp & grits recipes, and not finding one that incorporated all the flavors I wanted, made my own. It turned out quite nicely, so I'm sharing. The sauce is light in terms of volume, rather than being like a soup, and has a lot of different flavors packed into it.

Used canned San Marzano tomatoes (2 or 3 with some of the sauce in the can), folded a little Gouda into the grits at the end, one shallot 'toe' instead of onion or green onion. Nice!!
For the grits, bring the water and heavy cream to a boil in a medium pot.
Whisk in the grits, salt, and pepper.
Reduce the heat to medium, place the butter on top of the grits, and cover. Continue cooking for about thirty minutes, stirring frequently.
For the shrimp, heat the oil and garlic in a large sauce pan.
Saute the onion, green onion, and tomato with salt and pepper over medium heat until the tomato is softened.
Add the shrimp and pour the lemon juice, paprika, and parsley over them. Cook thoroughly.
Add the heavy cream and hot sauce and simmer for a few minutes, allowing the cream to absorb the flavors. Serve over the grits.