Low Calorie Strawberry "pretzel" Salad
MsSally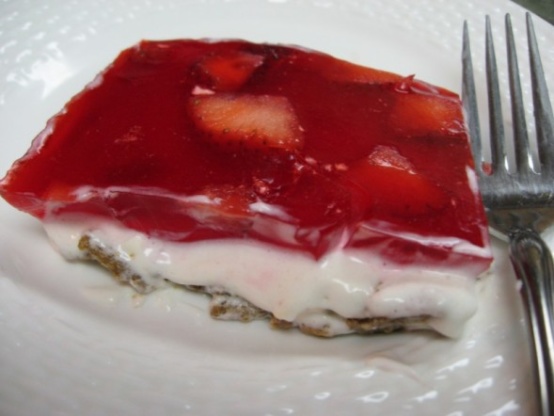 I found this recipe (pretty common one) and modified it. Haven't tried the crust yet in this particular recipe, but I've used it in other things. Y'all feel free to tell me how it works.. sort of posting for my own reference as well! Most of cook time is chill time.

Made this for a neighbor & her visiting grandkids, & since I just knew the inquiring ones would ask about the 'pretzel' part, when making the crust, I crushed a couple of pretzels along with the cereal! Strawberries aren't that flavorful around here this time of year, so I used raspberries! Definitely a keeper of a recipe! [Tagged, made & reviewed for one of my adoptees in the current Pick-A-Chef]
Combine crust ingredients and pat in the bottom of a 9x13" pan. Add a little more water if necessary. Bake 8 minutes in preheated 375 oven. Let cool completely.
Combine splenda and cream cheese in medium bowl for 3 minutes over low speed. Mixture will be thick. Gradually add Cool Whip, do not over beat. Pour over cooled pretzel crust. Cover and chill 1 hour.
Combine Jello and hot water in medium bowl. Gradually add berries, stirring a few minutes until mixture has slightly cooled. Carefully pour over cream cheese mixture. Cover and chill at least 2 hours.