Low Cal Spicy 2 Bean and Chicken Soup
Derf2440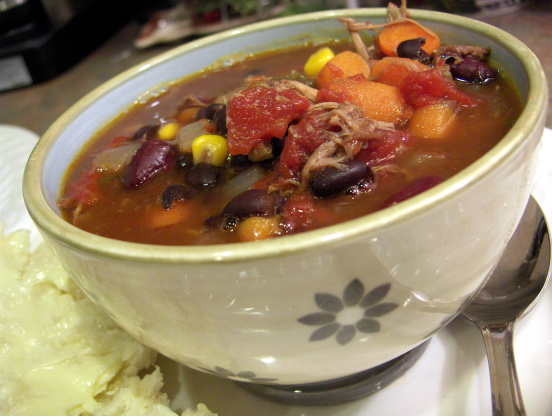 low cal soup that can be done in the crockpot or stove top. I don't find this a really spicy soup, I like to add chipotle chile or hot sauce, also usually add cilantro. Have also added additional veggies such as zucchini and even added rice before. Easy to make vegetarian by leaving out the chicken and using veggie broth. Very good with crumbled baked tortilla chips and low fat sour cream to top

This was delicious!

I was going to use my magic bullet blender to chop the carrots and onion, but I ended up adding some broth and pureeing it. My husband really appreciated that because he doesn't like vegetable pieces. So I ended up blending part of the tomatoes too.

I omitted the chicken (we don't eat meat at home) and added some extra cayenne and red pepper for extra spice. Brought to a boil and cooked for about 10 minutes, since we were hungry.

Served it with fat free sour cream and shredded cheese on top. It was fabulous! Nice and spicy, hearty, and very low-cal. Thanks!!
Place a large Dutch oven coated with cooking spray over medium-high heat until hot.
Add onion, carrot, and garlic; sauté 5 minutes.
Stir in broth and remaining ingredients; bring to a boil.
Cover, reduce heat, and simmer 2 hours.
To use a slow cooker, combine everything in the pot, and cook on HIGH for the first hour; then turn the temperature down to LOW, and cook 7 more hours.