Loaded Mashed Potatoes (Paula Deen)
Pneuma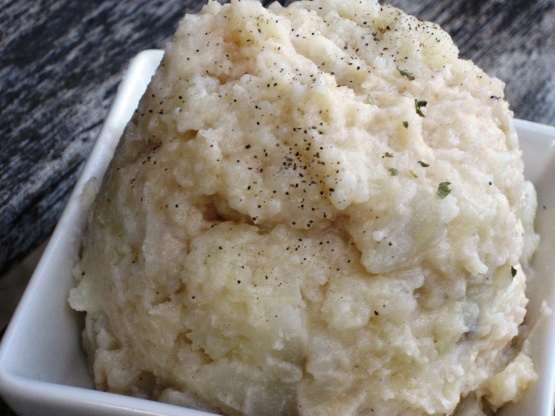 I got this from her magazine and let me tell you that these are amazing!! They were made by a firefighting chef, Mike Wathen, where she visited in Alabama. Here are the adjustments I made: red potaotes, light sour cream, light cheddar cheese, and turkey bacon. I actually just fried up the bacon and then crumbled it. Hubby and kids were raving about how these were the best mashed potatoes they have ever had!

These Mashed Potatoes are absolutely delicious, I fixed them for a group of friends and they are asking me when am I going to make more. Love It.
In large stockpot, cook potatoes in enough salted water to cover until tender.
Drain and return to stockpot.
Add butter, garlic, and sourcream; beat with an electric mixer until smooth.
Add a little milk, if needed.
Stir in cheese, bacon, salt, and pepper. Serve immediately.
Enjoy!