Lithuanian Cabbage Soup (Kopustu Sriuba)
teresas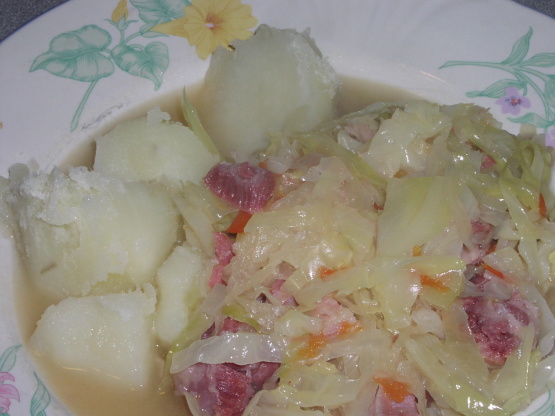 This is the soup our mom always made. The combination of fresh cabbage and sauerkraut is what makes this special. I measured quantities in response to a request, but I usually just toss things together. If you use a slotted spoon, this also makes a good side - just reduce the amount of liquid used. Serve with boiled potatoes.

O.M.G. Where are the other stars! DH wanted to rate this 100, no not 10, but 100 stars! This is comfort food at it's best. I just loved the aroma that this gave my kitchen for most of the day. I kept (I know I shouldn't have but couldn't help my self) looking in the pot. This may not be the most attractive dish I have made but it really is one of the most flavorful! I made no changes up to and including step 4. Just served this with a nice German rye bread with butter. Thanks for posting and this is going in my best of 2009 cookbook. :)
In a large pot, place the sauerkraut, chicken stock, smoked meat, peppercorns and bay leaves. Add water to cover. Bring to a boil, reduce temperature, cover and simmer for 1 to 2 hours. Meat should be tender.
Remove meat, discard bones, dice and return to the pot. Add the shredded cabbage, tomatoes and onion. Bring to a boil, reduce to a simmer and cook another hour or so.
Add water, as necessary, to keep it soupy.
To serve, remove the bay leaves and dish up, with hot boiled potatoes on the side.
Note: If you prefer, substitute 1 cup shredded carrots for the tomatoes. Smoked turkey is a good substitute for the ham hocks. And there is nothing wrong with a nice hambone!
Note2: You can drain and rinse the sauerkraut for a milder dish, but I think this is pretty mild, because of all the liquid and the fresh cabbage.
Note3: You can reduce the amount of chicken stock if you need to - the meat will add a lot of substance to the liquid. I also have used the strained liquid left over after cooking a corned beef in the crock.