Lisa's Swirled Chocolate Chip Cookies
Dine Dish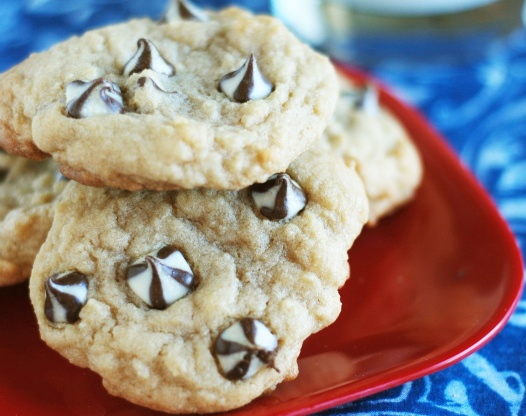 This is a chocolate chip cookie recipe that my friend DeLynn's best friend gave to us. This is the recipe I use for normal chocolate chip cookies, but I've recently been making them with Nestlé's new White & Milk Chocolate Swirled chips. This is a yummy soft and delicious cookie!

Top Review by J-Lynn
Good cookies! I made exactly as directed, except with only 2 cups chocolate chips. I did discover that at 350, the cookies needed to be taken out of the oven while just beginning to brown at the edges- they the are perfect when cooled. At 325, they spread out much more and I got a thinner cookie. Perfect choc. chip recipe, and makes a good amount of large cookies. I got maybe 6 dozen 4inch cookies?
Preheat oven to 350 degrees Fahrenheit.
Mix butter, granulated sugar, brown sugar, vanilla and eggs in a large bowl.
Stir in the flour, baking soda and salt.
Stir in 2 cups of Swirled Chocolate Chips.
Drop dough by rounded measuring tablespoons, about 2-inches apart, onto ungreased cookie sheet.
Place the several of the reserved swirled chocolate chips on top of each cookie.
Bake 9 to 12 minutes or until light brown.
Cool slightly.
Remove from cookie sheet.
Cool on wire rack.