Lina's Chili Dogs - Sandwich Maker
Linajjac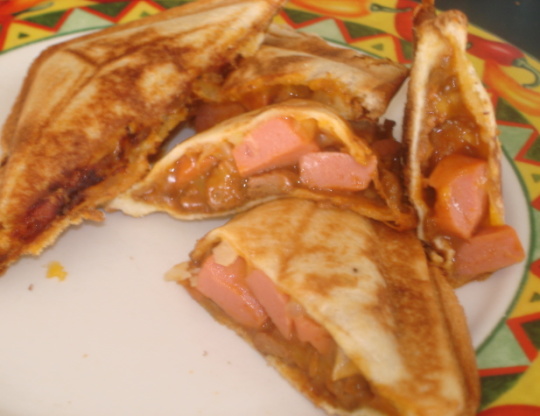 I decided to dust off my old sandwich cooker. It's something most of us have but just sits. I came up with this and it was a hit with my family. This obviously isn't a "fancy" recipe. But it's a nice quick lunch/dinner or an after school snack! Now, I'm not sure how well they heat up. I made a bunch and froze some. I'll up-date with that information at a later date. The can of chili is NO beans. You might have leftover chili based on the amount of sandwiches you make. All of the amounts are just based on how many people you'll be serving.

OMG, you have no idea how you made me laugh. Yep your right, now where is that sandwich maker? Found it, cleaned it up, a trip to the pantry and wala dinner is cooking as we "speak". I can hear the twins, now 21, as they take a trip down memory lane. This sandwich maker got a good workout back in the day. Think I'll leave it out for a while. Thanks Lina
1

(15 ounce) can chili
hot dog, sliced

1

cup of grated cheddar cheese
diced onion
bread
Butter or spray pam on your machine. Pre heat it.
Set 2 slices of bread on the machine.
Add a Heaping Table spoon of chili on each slice and spread. Add sliced hot dogs.
Top off with onions and cheese. NOTE - Don't over fill.Top off each with a slice of bread.
Latch the cooker shut and cook for about 3 minutes or till done.
Enjoy!