Lime Chicken and Thai Fish Sauce
PanNan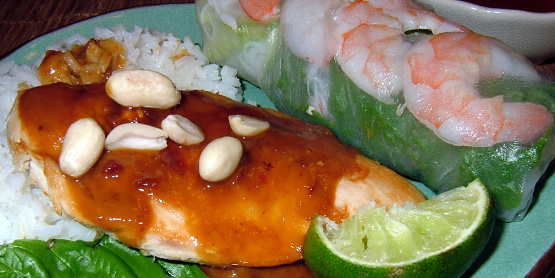 A wonderfully easy and quick-to-make chicken dish I found in Cooking Light.

Top Review by PanNan
I liked this recipe, and made it as directed. It was quick, and easy, and pretty healthy, too. For my taste, the sauce seemed a bit sour, but may have been due to the brand of chile sauce I used - it may not have been as sweet as some other brands. I also thought it could have used a little more peanut butter to make it creamier and give it more peanut flavor. As it was, we had a nice meal. Thanks for posting the recipe.
Place each chicken breast half between 2 sheets of heavy-duty plastic wrap; pound to 1/2-inch thickiness using a meat mallet or rolling pin. Sprinkle chicken evenly with 1/4 teaspoon salt.
Heat oil in a large nonstick skillet over medium heat. Add chicken, cook 6 minutes on each side or until done. Remove chicken from pan, keep warm.
Add broth, chili sauce, and fish sauce; bring to a boil, scraping pan to loosen browned bits. Cook until broth mixture is reduced to 2/3 cup (about 4 minutes). Remove from heat; add lime juice and peanut butter, stirring until smooth. Serve sauce over chicken, sprinkle with peanuts. Garnish with lime wedges, if desired.