Lightly Fried Chicken Breasts With Basil Tomatoes
PaulaG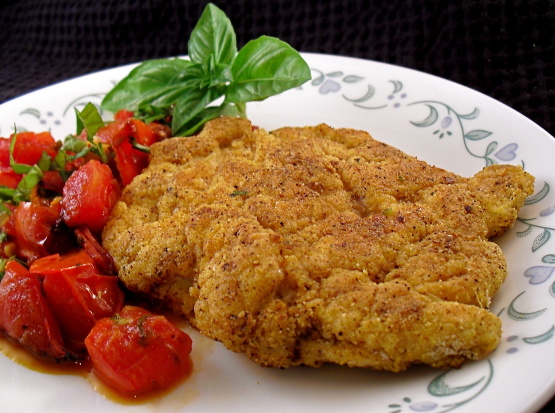 I made this up because I was the only adult home and I had one chicken breast and a very fresh tomato from my garden. I don't usually measure ingredients when I'm making something up, so this is an approximation of what it would take to make the meal for two. I'm pretty sure its tastiness was enhanced by the garden-picked, juicy tomato.
Top Review by PaulaG
This dish was very well seasoned and a perfect quick meal for 2. The chicken was flattened to prompt even and quick cooking. I enjoyed the combination of corn meal and flour breading. The tomatoes were fresh garden tomatoes sprinkled with fresh basil. This was served as suggested with a side salad. Made for *PAC*
Rinse and thoroughly dry chicken breasts. Pound them to a more even consistency, if needed.
Mix flour, corn meal, chili powder, coriander, and lemon pepper.
Heat 1 T of olive oil in a pan at medium-high heat.
Dip each chicken breast in egg and then thoroughly dredge in flour mixture (I like to sprinkle some additional chili powder on each chicken breast before it goes in the pan).
Fry the chicken breasts on the first side for about 7 or 8 minutes, or whenever they are about half-cooked.
Turn chicken breasts.
After a minute or two, add the remaining olive oil and the garlic to the pan. Put the tomato chunks in the pan, keeping them separate from the chicken but allowing them to benefit from the drippings in the pan. Sprinkle basil over tomatoes. Do not stir.
Cook until chicken is cooked through (another 5 - 7 minutes).
Serve with corn bread, roasted red potatoes, or a side salad. I wouldn't serve this with rice as it might absorb the tomato/ chicken juices.