Bergy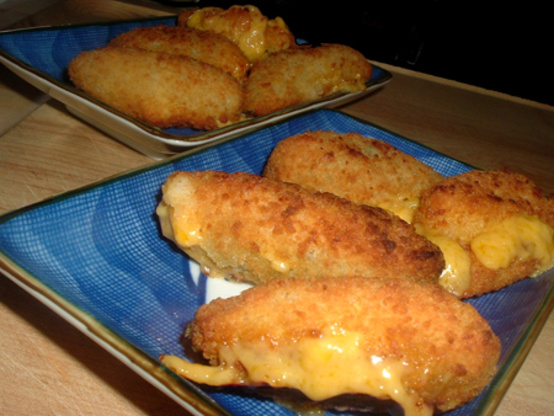 Made these as an appetizer with Mean Chef's Chile Rellenos. They are fabulous and you'd never know they were low fat. I let them cook a little longer than the recipe suggests. These would be PERFECT for any party occasion--superbowl, new year's eve, christmas eve, fourth of july, you name it! Found at weightwatchers.com.

Top Review by MicDoc
I really think this deserves a five...very tasty especially for a low fat dish. I served it to 3 other people and they said it was lacking just a little taste in the cheese mixture...they said maybe some (unhealthy) bacon bits.
Preheat oven to 350ºF.
Coat a large baking sheet with cooking spray.
In a medium bowl, combine cream cheese, cheddar cheese and mayonnaise; mix well and set aside.
Halve jalapenos lengthwise and remove seeds.
Stuff jalapeno halves with cream cheese mixture.
Place egg substitute in a shallow dish.
Place cereal crumbs (I just used dried bread crumbs from a package) in a separate shallow dish.
Dip stuffed jalapeno halves into egg substitute and then roll in cereal crumbs to coat.
Transfer jalapenos to prepared baking sheet and coat with cooking spray.
Bake until filling is bubbly, about 30 minutes.
Serve hot.