Lentil Salad With Spinach Pecans and Cheddar
dicentra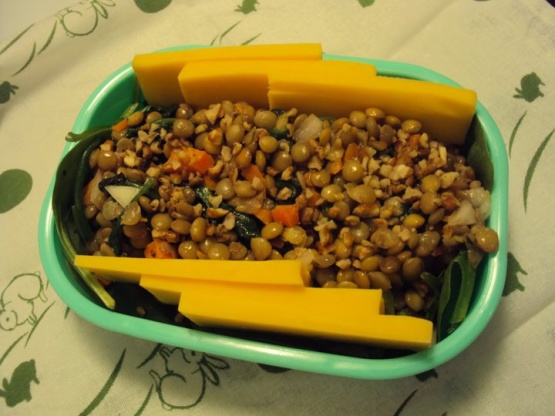 This comes from one of my Food and Wine cookbooks. They say to serve this with a petite sirah. I'm posting it for ZWT3.
In a medium pot, combine the lentils, onion, carrot, garlic, bay leaf, and enough water to cover by 2 inches. Bring to a boil.
Reduce the heat and simmer, partially covered, until the lentils are tender, about 30 minutes.
Drain; discard the onion, carrot, garlic and bay leaf.
In a small frying pan, toast the pecans over moderately low heat, stirring frequently, until golden brown, about 5 minutes. Chop them.
In a large glass or stainless steel bowl, whisk together 2 tablespoons of the vinegar, ½ teaspoon of the salt and ¼ teaspoon of the pepper. Add the oil slowly, whisking.
Shred half of the spinach and put in a large glass or stainless steel bowl.
Add the hot lentils, half of the dressing, the remaining vinegar, salt and pepper. Toss gently until the spinach wilts.
Toss the remaining spinach with the remaining dressing and put on plates. Top with the lentil mixture and toasted pecans.
Using a vegetable peeler, shave the cheese over the top.