Lentil, Cabbage and Tomato Dal
-Sylvie-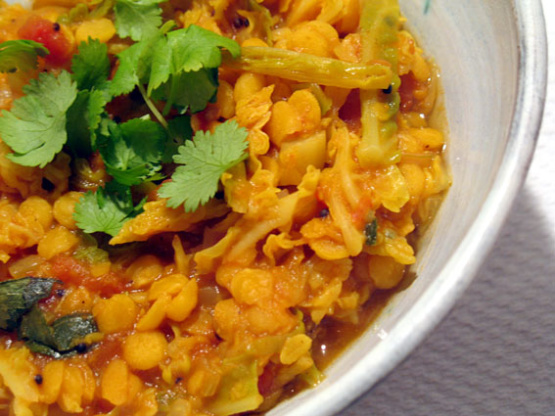 This is a recipe from Rose Elliot's 'The Vegetarian Kitchen' in the Guardian Weekend supplement. If you can't find toovar dal (check the Indian section of your supermarket) you can substitute yellow split peas, which works just fine and it says you could also use red lentils instead. I used 1 smallish head of savoy cabbage, which once I had trimmed it and shredded it worked out just above the correct weight.

This dish was pretty darn tasty. The cabbage flavor was a little too strong us - it tasted a lot like mellow brussels sprouts -but a very generous dousing of lemon juice seemed to fix this. I also added some chili powder because we like a little kick. I agree that the full amount of water would have been too soupy. I started with about 4 1/2 cups and the texture was nice. Cooking times were accurate and the meatier parts of cabbage held their firmness well. The dish was ver satisfying. We will be making this recipe again!
Rinse the toovar dal well with plenty of hot water.
Place water, tumeric and dal into a pan and bring to a boil.
Reduce heat and simmer for approximately 45 minutes. It should become very soft. (If you're using split peas or red lentils, this time might need adjusting.).
Add the tomatoes and curry leaves to the pan and set aside.
In another pan heat the olive oil. Add the mustard seeds and cook for a few seconds before adding the fenugreek and the curry powder.
Now add the cabbage and onion. Cover and cook on a low heat for approximately 5 minutes.
Now combine the contents of both pans and simmer for 20 more minutes, or until all vegetables are tender, over a low heat.
Stir in lemon juice and season to taste.
Serve topped with fresh corriander, either on it's own, over rice or with some roti. If you serve it with rice it'll be enough for four to five people.