Diana 2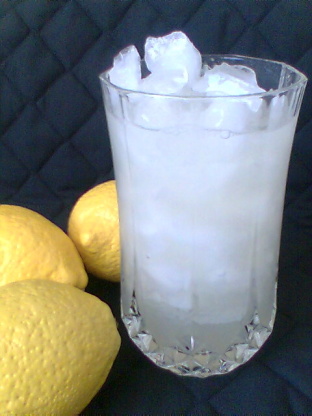 Lemonade for two. I've been experimenting with stevia. This is what I came up with when my sweet tooth son wanted something sweet. I liked it and it's quick.

GREAT TASTING LEMONADE, & I can see why someone with a sweet tooth would like it! Stevia is an interesting sweetener, one I haven't used much before, but now that I've got a supply of it . . . ! Am sure it'll get used up as we get into warmer weather, as we are big on lemonade! Thanks for posting your recipe! [Tagged, made & reviewed for one of my adopted chefs in the current Pick A Chef]
Squeeze 1/2 lemon into a tall glass.
Add stevia (two little scoops, 28mg each) or a dash into glass. Mix to dissolve the stevia.
Add ice and fill with water. Stir and drink.
I use Pure Stevia extract powder made by Kal. I purchased it at the health food store. Expensive stuff, but it lasts a long time.