Soup Fly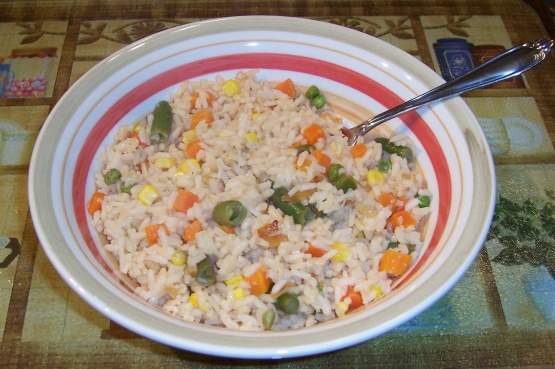 This is based on Mirjam's "Mideastern Lemon Chicken". This is a really yummy recipe, THANKS Mirjam!

I'm sorry but this rice didn't go well at all with anyone in this household. Unfortunately, we had some family friends' come over for dinner today, and they were very dissapointed with this rice as were my parents. I had really expected this to turn out very nice. I had used a combo of greenpeas, celery and carrots for the vegetables(1 cup in total). Since we dont have butter(we use oil usually in basic food), I substituted the butter with oil. Also, I used thyme leaves as a substitute for the rosemary(after checking on Zaar for the best substitute for rosemary)as I had run out of it. I used about 3/4 tsp. of salt(maybe I should have used more?). What I think will really improve the flavour of this rice is using vegetable stock instead of water. Next time, I'll use 2 cubes of Maggi Vegetable Stock with onion boiled and dissolved in 2.5 cups of water instead of plain water to cook the rice. That, in my opinion, should do the trick!
Cook rice in boiling salted water until almost, but not quite, done.
Drain rice and return to pot.
Meanwhile, melt butter in a small skillet over low heat, add onion and cook until browned, I usually add a few drops of oil so that the butter won't burn.
Add the onion and the rest of the ingredients to the rice, cover and cook on low heat for 5 to 10 minutes until completely done.