JustJanS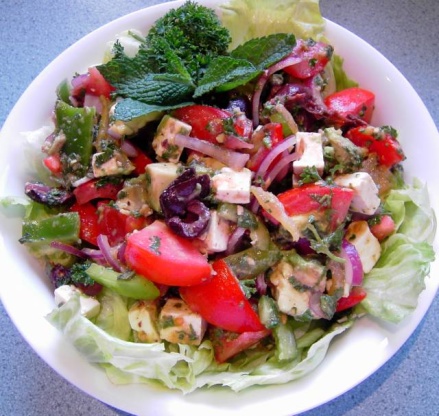 I found this recipe and am posting as a follow up to "Preserved Lemons."

This salad is not for the faint-hearted. It's so full of flavours and textures, you won't believe it!!!!!!!! I've been waiting since Di posted this to get some preserved lemons, and I did so in Melbourne yesterday! If you make it, don't change a thing-it's all meant to go together! We ate this tonight with Couscous by Dancer and Lamb Kebabs with Cumin and Cinnamon by Yooper. What a feast.
Rinse the preserved lemons, remove and discard pulp.
Cut rind into thin strips.
Whisk together lemon juice and the next 5 ingredients, adding lemon rind, tomato and the next 5 ingredients.
Toss well and chill for 1 hour.
Serve over greens.